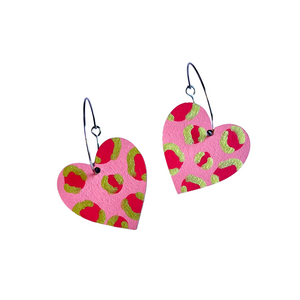 the heart measures 30mm, attached to a hoop measuring 25mm.

these earrings are hand painted by me. my sealant process has been updated to eradicate the need for varnish so my products are even more eco-friendly. this gives my jewellery a 'naked' feel which I absolutely love! my jewellery feels bare but be assured that it is sealed, protected and even has a UV resistant attribute.

The most fabulous earrings
These are beautiful! Lightweight, so it doesn't feel like your wearing hoops. I got lots of compliments wearing these.